When I asked my husband what I should write about earlier this week he jokingly said,
"Just write about what a stallion I am in the bedroom."
I didn't want to stroke his ego and bore you graphic details of our bedroom exploits. The last thing I want to do is turn this blog into a porn site. But after this blizzard of 2013, my husband lived up to his title.
I started tracking the storm about a week ago. At first it looked like it would be a bad rain storm with the potential for a wintry mix. But as it drew closer, the weather models began to shift. We knew this had the potential to be a really bad nor'easter. But as the forecasted winds speeds began to pick up, it became clear that this storm would turn out to be a blizzard.
I had been out sick (like a dog) for the first couple of days in the week. Despite feeling under the weather, I decided report to work for storm coverage. There was no way I'd miss this monster storm.
By Wednesday, we forecasted 8-16 and 4-8 inches of snow for our forecasted areas. I knew this would be a tough one considering we'd get some rain and sleet mixed in. By the storm's arrival on Friday, we got a couple of inches of the white stuff in the morning. Even though there was a transition to rain and sleet by the afternoon, there was a hefty helping of snow, as the storm ramped up overnight.
Most of my co-workers made hotel arrangements. My plan was to ride it out at my station, as I did for Sandy a few months back. You may be thinking how crazy of me to give up luxurious hotel digs and room service for a night at the news station. But the truth is being at a hotel doesn't always equal convenience for me. I would have to cross a bridge and travel through unfamiliar territory. I've spent years covering storms both as a traffic reporter and as a weather forecaster. I know the roads that lead to my town like the back of my hand. I know the county's routine in terms of snow removal. Also, I've had horrible experiences staying at hotels outside of my comfort zone. One of which led to me being in an accident, when I was four months pregnancy with Princess. There was no way I was going to take a chance like that again.
Before I left for work, I decided to swap my sedan for my hubby's SUV (which turned out to be my saving grace). There was no way I was going to battle this beast in a small car.
Boss lady let us out at the cusp of the explosion. I called our traffic center to find out the low down on road conditions, and bounced as soon as I could. Since this storm fell on a Friday, I knew that crews wouldn't clear my street as early as normal on Saturday morning. So, leaving at the time I did was the best option.
Roads went from black top to all white as I traveled closer to home. I saw cars in ditches, and people stranded. Visibility was down to nothing! My hubby and I stayed in contact the entire ride home (hands free, of course). Although he wasn't in the car with me, it sure felt like he was right there. At one point I remember saying,
"I can't see sh**. It's totally whiteout and the wipers are covered with ice!"
There was no way I was going to stop and get out of the car to manually remove the ice. That was out of the question.
"Blast the defroster. Turn it up as high as you can," he said.
It worked.
During this ordeal, the snow was coming down like crazy, and the winds were blowing it side ways. My hubby had been shoveling in shifts in order to make sure the driveway was cleared by the time I pulled up.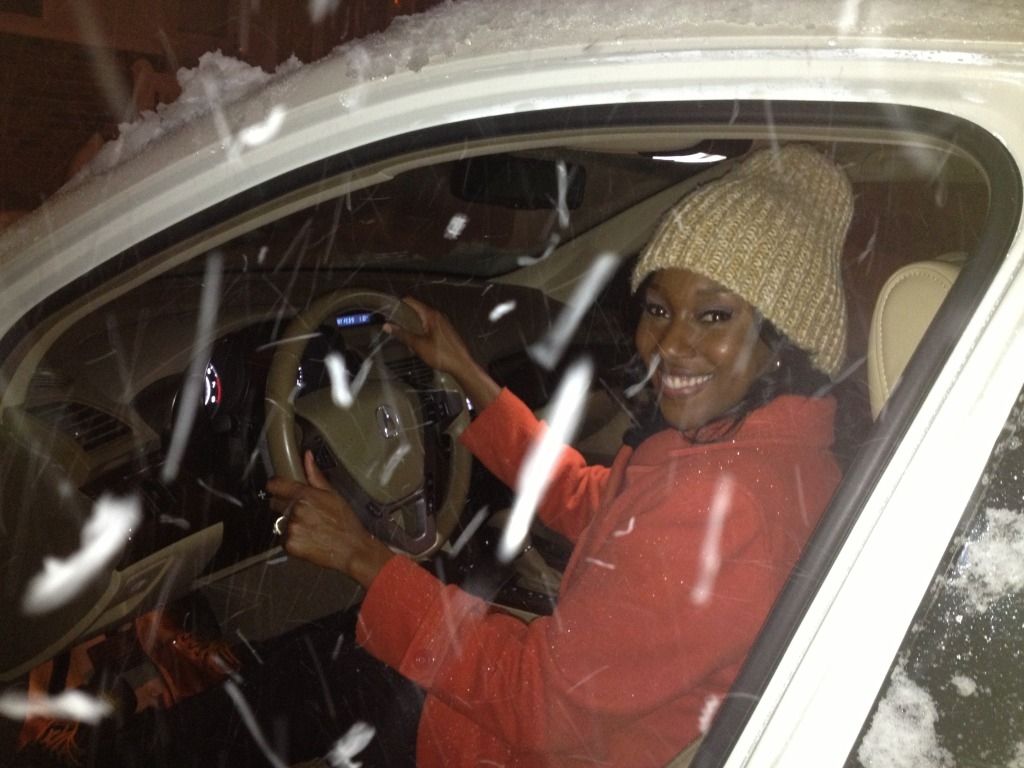 As you can tell by the pics, tertiary roads were nearly impassable. If it weren't for him and his trusty SUV, I don't know how on earth I would have gotten home. I consider myself a very experienced driver. I've made it through many blizzards and rain storms, this one was a doozy. But, I'm glad I made it home ok. I couldn't miss spending another night- this soon- away from from my two favorite people.
My hubby has proven time and time again that he is a stallion in more ways that one.
Would you have stayed at a hotel, stay put, or take the risk and drive home?