A Travel Day to Remember (Part 1)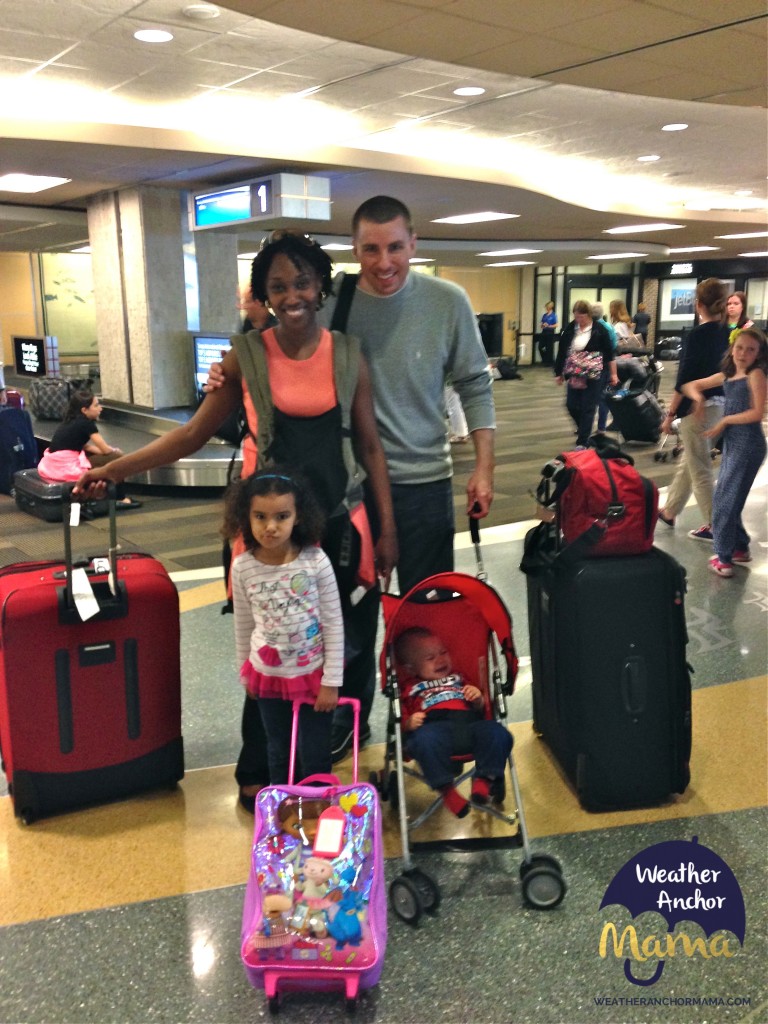 We were hell bent on making this flight. The thought of having to wait for another gave me anxiety. From a distance we saw a crowd of people who appeared to be waiting to board the aircraft. "We got this," I thought to myself.
Once we arrived at the gate, we were informed that no more passengers were allowed to get on the plane. Here's where I thought that playing the baby card would work in our favor. But the agent took one look at our family and reiterated, "The doors are closed." We begged and pleaded for her to let us on, but with a very matter of fact demeanor she said, "We close the door five to ten minutes before takeoff." I looked at my phone and realized that we missed the plane by one minute.
"Can't you call the plane and ask them to let us on," I pleaded some more. "No," she said. "Once the doors are closed, that's it." That woman was cold as ice. She obviously didn't care that we missed our flight. The other people who we standing there, as it turns out, were from an earlier flight that had been canceled due to mechanical problems. So we weren't the only ones out of luck.
This was the first time I'd ever miss a flight. I kept going over in my head how we could have saved time, but it was useless. We missed it and there was no way we were getting on that plane, and no way my hubby could have made the standby cut either. Now we had to try and get on his original flight, which was set to depart at 2:30pm. Princess had been trooper up until this point. "I'm hungry and thirsty. I want some water and something to eat," she whined. She had a pretty hearty breakfast, but we had decided to limit her water until after the flight. So, I couldn't blame her for being thirsty. It just came at a bad time. I took her to the bathroom and searched for water, while my hubby stood on line to try and get us on his flight.
The only option we had was to place the kids and me on standby for the 2:30 flight. If luck would have it, some people would miss their flight allowing the four of us to travel together. However, it was already full and the odds of someone missing the plane was slim because there were tons of people on standby from that earlier canceled flight. If we didn't make that plane, the kids and I would have to wait until the 7:30pm, which would mean that we'd be stuck at the airport the entire day and wouldn't arrive I tampa until after 10pm. It would take a miracle for us to travel together. The only other option was to take a flight at 1pm to Boston and wait for a 7:30 flight to Tampa from there. We chose to try our luck and waited to see if we could get on my hubby's direct flight.
After roaming the airport and listening to Princess whine some more, she finally got her wish. We had lunch, then headed straight to the gate to wait for the 2:30 flight. With only two one diaper left, I was hoping Baby O wouldn't have a last minute explosion. There's no telling when we'd be able to board a plane at this point.
We were already pissed off that JetBlue turned us away, and planned to write a note of complaint. But then I figured, why not try and work a little magic to see if the agent could do something to get us on the next flight somehow. I could bat my lashes, or approach with the kids. There are some people who have a sore spot for kids. But after thinking about that lady who shut the door, I knew that playing the kid card would be a waste of time. Batting my eyes wouldn't work either. I looked at hot mess.
Instead, I politely explained the situation to the guy behind the JetBlue counter. "This is my first time on stand by. Can you explain the process to me?" I asked. I then went on to tell him that even if there was one seat left, I'd want to put my daughter in the flight with her dad and I'd travel on the 7:30 flight with the baby. "But, if there's anything you can do to get us all on, I'd appreciate it," I added. He then told me that there was a family of six ahead of us. "I don't think they'll want to split up, if there were only a couple seats left," he said.
In a nutshell, we sorta had a shot of getting on. As it turns out, the family of six was supposed to have been on that early morning canceled flight, and wasn't able to board the 10:30 flight either. They were actually supposed to be on a cruise and missed the boat too. The agent told me that they were basically out a ton of money with no where to go, and decided to spend a coupe days in Tampa and make the best of their situation. They were in a pretty bad predicament, but so were we. Traveling with small children is completely different from traveling with teens, like this family.
We had about a two hour wait, which seemed like an eternity. Princess was getting more restless and had been working my last nerve. I prayed that there was at least one seat so that she could get on. I couldn't blame her though. If we had made the flight, we would have already been in Tampa.
She must have needed to go to the bathroom a million times. I actually lost count. After every trip to the restroom, she wanted to race back to where Baby O and her daddy were sitting. Needless to say, I was exhausted.
So what do you think, did we make it on the next plane? Stay tuned to find out.